How to extend the lifespan of your graphic card
In this short article I'm going to explain how to simply extend the lifespan of an NVIDIA chipset-based graphics cards.
Increasing the lifespan of a graphics card is a very simple operation and is essentially based on enhance its cooling by Setting a Custom Curve to Control the Rotation Speed of the Fan or Fans Set.
All the graphics cards on the market have a preset control curve of the fan hardcoded in the system firmware but often that curve is inadequate to withstand long heavy processing loads.
From my tests I found that under heavy load, during a long GPU rendering session, the standard control curve of the fans didn't allow a rotation value of the same of more than 50%, with the achievement of temperatures of the GPUs around 78/80°C with an ambient temperature of around 18°C. Obviously in conditions of higher ambient temperature these values become even more critical and prolonged use with these temperatures certainly cannot benefit the life of the graphics cards even considering that a good 50% of the potential cooling is unused.
Most of the graphics cards based on NVIDIA chipsets are equipped with additional software to allow variations of the operating parameters, but in some cases these software also install services that can interfere with the proper functioning and performance of the graphics card.
After some tests and research I found the perfect software to perform customization of the cooling fan control for both my Asus GTX 1080 Ti Founder Edition.
The software that I identified as the best is MSI Afterburner because it doesn't install additional services and can be used only when it is needed to increase the cooling capacity, for example during an heavy GPU rendering session.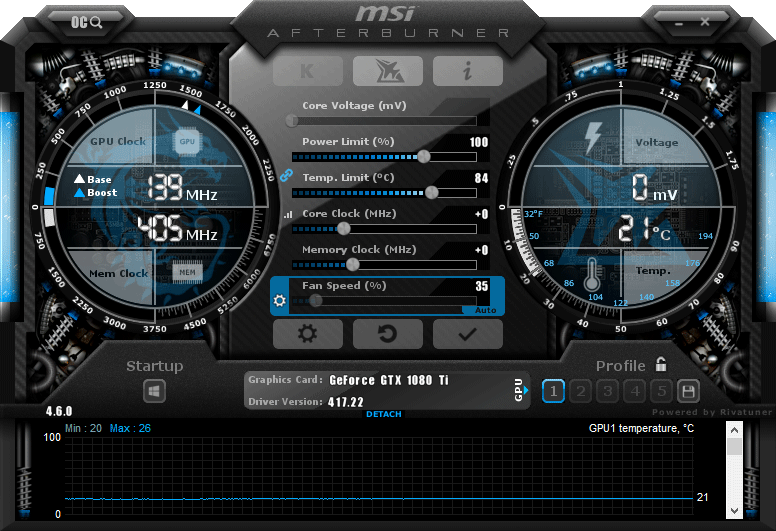 An important suggestion to you guys: while you perform the installation will be displayed a dialog box to choose the Afterburner components.
Be careful to disable the second option, as showed in the following picture, to don't install unneeded components that may slow down your system performances.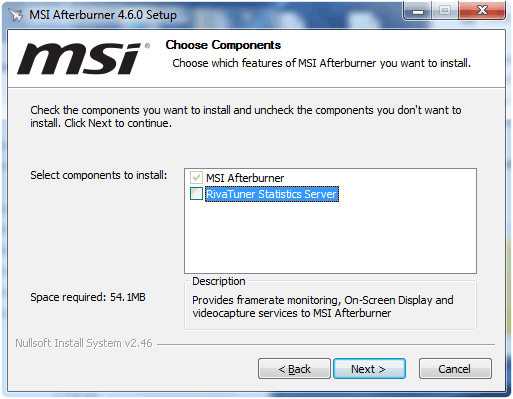 After the software installation launch MSI Afterburner and click on the gray button with a gear wheel inside, below the fan speed display.
Select the Fan tab and set your prefered custom control curve.
The following picture show the Custom Cooling Fan Control Curve that I set for both my cards.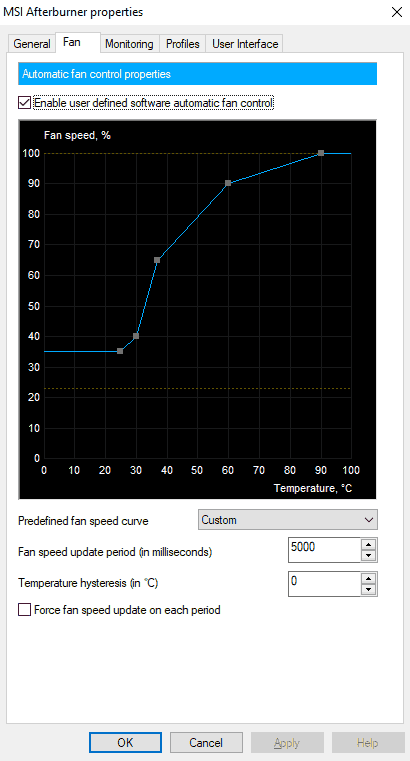 Pay attention also to other needed requirements to extend the lifespan of a graphics card like:
Keep the inside of the case cool
Have enough airflow inside
Keep track of the temperature
Dust it off regularly
Place your system in a well-ventilated place
So, that's all, now try to render some scenes with or without running Afterburner and look at the max reached temperatures.
You will be very surprised of how is simple to low down it without use expensive liquid cooling solutions.
Your GPUs will thank you, have fun!